Gabriola Events
a gathering place for all events on Gabriola
Gabriola Quilters
Wednesday, December 13, 2023 (9:30 AM - 4:00 PM) (PST)
Description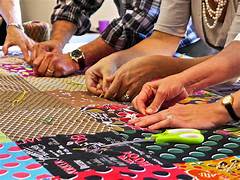 We meet the 2nd, 4th and 5th Wednesdays from 9:30 am to 4:00 pm in the large room.

We are a group of individuals who get together to share ideas, work on projects, our own or a group project, and socialize. We love to play with colours and fabric. Members' skills range from beginner to very experienced.
Some members are also fiber artists, some do other forms of needle crafts to be incorporated into their quilts, or while in between projects. Primarily, we work on our own projects. Occasionally we may be involved as a group in projects that benefit the community. The latest example being the Sunflower quilt for PHC .
Membership Fees: $20/calendar year - which covers the storage locker rental with some left over to cover other expenses such as our annual show and sale.
There is a $2 activity fee paid to the GSCA each time a member attends. Drop-ins are always welcome. The first visit is free and subsequent visits are $5.
The Rollo Centre

Wednesday, December 13, 2023 (9:30 AM - 4:00 PM) (PST)
Categories
Training / Workshop
Community Event
Meeting
Event Planners
Promote your event where everyone looks

Avoid conflicts, see what else is going on
The Details
Click the big

+

above the search bar on the right.
No need to log in or have an account.
Add your event.
Events need to be approved.  Please allow up to 3 days for review and posting.
The GICC reserves the right to modify your submission for clarity and content, and may choose, at its discretion, not to post an event on the Community Calendar.