Gabriola Events
a gathering place for all events on Gabriola
Event Planners
Promote your event where everyone looks

Avoid conflicts, see what else is going on
The Details
Click the big

+

above the search bar on the right.
No need to log in or have an account.
Add your event.
Events need to be approved.  Please allow up to 3 days for review and posting.
The GICC reserves the right to modify your submission for clarity and content, and may choose, at its discretion, not to post an event on the Community Calendar.
Men's Dinner Club
Monday, March 13, 2023 8:00 AM - Friday, March 17, 2023 5:00 PM (PDT)
Description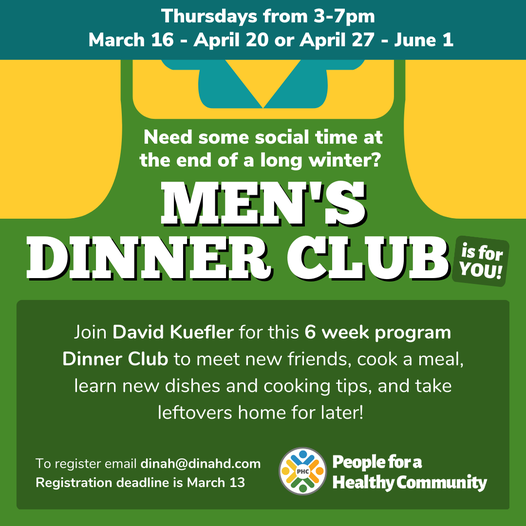 Do you live alone? Need some social time at the end of a long winter? We've got just the recipe! The Men's Dinner Club is for YOU
Non-binary folks are welcome - please just let us know which group you prefer to join. All demographics are welcome.
Pre-registration required deadline is March 13
Each club will runs for 6 weeks on Thursdays 3pm-7pm at the Gabriola Fellowship Church. Vaccination is required!
ROUND 1 - March 16 - April 20 or ROUND 2 - April 27- June 1
Email dinah@dinahd.com or Facebook Messenger @dinahdee to register for either of these clubs asap -- they will fill up fast
Christ Church Gabriola



Gabriola

,

BC

Canada



Monday, March 13, 2023 8:00 AM - Friday, March 17, 2023 5:00 PM (PDT)
Weekly event, Thursday evening,
registration required