Gabriola Events
a gathering place for all events on Gabriola
Event Planners
Promote your event where everyone looks

Avoid conflicts, see what else is going on
The Details
Click the big

+

above the search bar on the right.
No need to log in or have an account.
Add your event.
Events need to be approved.  Please allow up to 3 days for review and posting.
The GICC reserves the right to modify your submission for clarity and content, and may choose, at its discretion, not to post an event on the Community Calendar.
Not All Who Wander Are Lost - Deborah Dallyn & Carolyn Bell @ Free Spirit Gallery
Tuesday, April 11, 2023 10:00 AM - Saturday, May 6, 2023 4:00 PM (PDT)
Description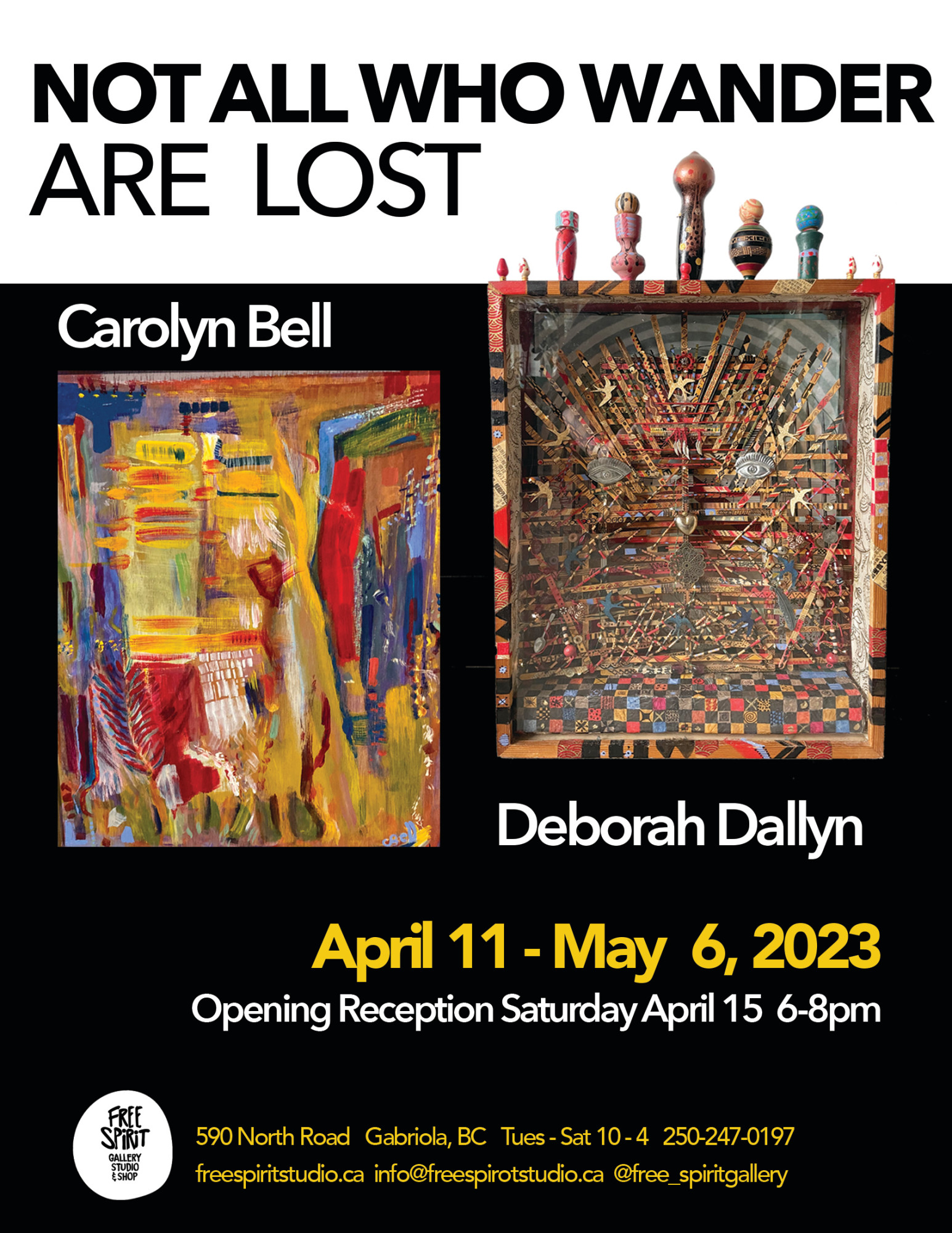 This exhibition features artworks by both Deborah Dallyn and Carolyn Bell. The artists works are individual to their way of creating and yet the pieces overlap in places, unified by their collaborative theme of Those Who Wander Are Not Lost.
Not all those who wander are lost; The old that is strong does not wither, Deep roots are not reached by the frost. From the ashes a fire shall be woken, A light from the shadows shall spring; Renewed shall be blade that was broken, The crownless again shall be king.". ― J.R.R. Tolkien
Both artists are letting go of pieces they have held close as well as showcasing new works. This process as we enter Spring might conjure feelings of renewal and moving towards new paths. Sometimes we find ourselves in a holding pattern and crave wandering into new ideas, lands, and ways of being. Both Deborah Dallyn and Carolyn Bell are artists who defy convention and and celebrate radical thinkings in their work and in their philosophies.
Deborah's work takes us on poetic journeys studying the details of her assemblage pieces. She work across many mediums from collage to photography to sculpture to drawing to painting. Embracing the ordinary ephermera around us and choreographing it all into riveting, original pieces that beg the viewer to gaze and look deeper. Often the element of surprise is used to encourage the viewer to discover areas of the piece through interactive elements such as a drawer or tiny latches.
Carolyn is an accomplished musician and this often moves across and informs her paintings and drawings. The sometimes improvisational sounds of jazz can also be found in her brushstrokes and the rhythm of the forms and lines. She is inspired also by strong writers, leaders and artists who push barriers using historical Icon traditions of depicting sacred imagery to elevate contemporary groundbreaking popular figures.
Nova Art & Craft Shop and Gallery
9-575 North Road



Gabriola

,

BC

V0R1X3

Canada



Free Spirit Gallery & Shop
Tuesday, April 11, 2023 10:00 AM - Saturday, May 6, 2023 4:00 PM (PDT)
Categories
Art
Community Event